Dear Friend


MIDBRAIN ACTIVATION Dec 22
---
Contents
Quote for the Week
Editorial
Feature Article
Tips & Tricksl
Feedback
Q & A
Quote of the Week
The man of genius inspires us with a boundless confidence in our own powers. Ralph Waldo Emerson
===========================================================
Editorial
===========================================================
Welcome to our weekly newsletter.
Welcome to our new members Please feel free to pass this on to your list BACK ISSUES: 1. Right Brain Education" September 01, 2012 -- Midbrain-Activation Tips, Issue #001 -- teaser here 2. About the Yumiko Method 3. November 02, 2013 -- Midbrain-Activation Tips, Issue #002 -- teaser here
4. What is the mid brain and why does it need activation November 09, 2013 -- Midbrain-Activation Tips, Issue #002 -- teaser here
5. Developing a Photographic Memory November 16, 2013 -- Midbrain-Activation Tips, Issue #002 -- teaser here
Enjoy
===========================================================
FEATURE ARTICLE; YOUR CHILD IS GIFTED AND TALENTED ===========================================================
How delighted would you be to be told by the teachers that your child is gifted and talented ?
Please read on:
1. Developmental Milestones Gifted children tend to develop a range of skills earlier than usual.
To help you gauge whether or not your young child is exceptional for their age, you can compare their developmental milestones with those listed in various milestone charts. There are two types of milestone chart. One contains age-related developmental scales, and the other places development on a continuum.
An example of an age-related milestone chart developed to help identify gifted preschoolers can be found on pages 176–177 of Your Gifted Child: How to Recognize and Develop the Special Talents in Your Child from Birth to Age Seven (Smutny et al., 1989).
2. What Is Giftedness?
In order to fi nd out whether your child is gifted or not, fi rst you need to understand what you are looking for. So, what exactly is "giftedness"? Opinions vary on what constitutes "giftedness"; however, most people agree on the following three points:
• Being gifted means being exceptional in one or more areas compared to other people of a similar age.
• Giftedness is inherited (nature) but is also developed by external infl uences (nurture).
• Giftedness can be found among people from all cultural, ethnic, and socio-economic groups and among people who have physical, sensory, and learning disabilities.
The areas of debate relate to: how exceptional a person must be to be considered gifted; in what areas giftedness is recognised; whether nature or nurture is more infl uential; and how giftedness can be reliably identifi ed.
Many years ago, these were not such controversial issues. It was assumed that if children were gifted, their giftedness would become evident at an early age, and for people like the eighteenth-century composer Mozart, who was recognised publicly as having a unique gift for music by the tender age of fi ve, this was certainly true.
3. THREE TRAITS OF GIFTED CHILDEN
From studies of gifted adults, Professor Joseph Renzulli noted that people who have been successful in life possess three particular traits – high levels of ability, creativity, and task commitment.

Renzulli believed that gifted children either already have these three traits or are "capable of developing" them and "applying them to any potentially valuable area of human performance" (Renzulli and Reis, 1985, page 28).

This introduces two important aspects of giftedness:

1. Giftedness is recognised in relation to what people value, and this can change over time and across cultures. 2. You can have apparent giftedness or potential giftedness.
4. A MODEL OF GIFTEDNESS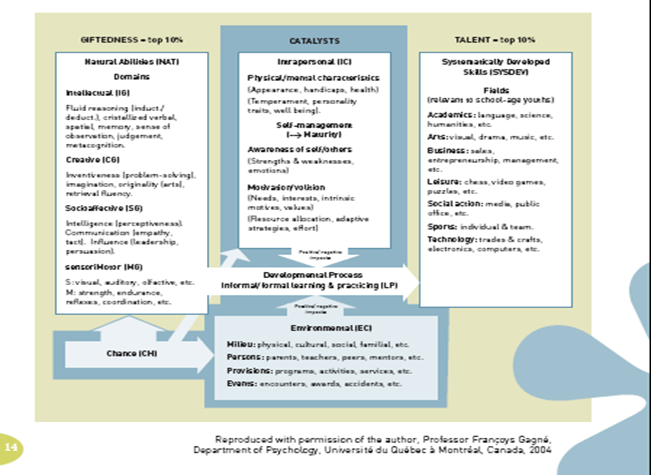 Professor Françoys Gagné provided a model of giftedness that expands on this idea.

Professor Françoys Gagné believes that gifted people are born with a biological potential that will allow them to develop high ability in one or more of the areas listed under "Giftedness" in the diagram above.

Professor Françoys Gagné believes that gifted people are born with a biological potential that will allow them to develop high ability in one or more of the areas listed under "Giftedness" in the diagram above.

This could be considered a person's potential talent. In the middle column, Gagné lists the catalysts needed to transform their natural gifts into exceptional performance in the areas listed under "Talent = top 10%".

So, for example, if a child shows exceptional creative ability at an early age and they are encouraged by their parents, given art materials or musical instruments to experiment with, and enrolled in art or music classes (environment), and if they enjoy art or music and have real "stickability" (intrapersonal and selfmanagement), then it is likely their natural gift will lead them to create wonderful works of art or musical compositions. ( Mozart)

Likewise,if the child's creativity leans towards mechanical objects and they are encouraged and given opportunities to play with construction toys and pull apart old TVs, their gift might lead them to make signifi cant technological breakthroughs in the future.

However,if they are not given encouragement and opportunities to develop their natural gifts, a child's potential might never be realised.

In considering the question "Who are the gifted and talented?", the Ministry of Education's policy statement Initiatives for Gifted and Talented Learners makes the following points:

• Gifted and talented learners are those with exceptional abilities relative to most other people. • These individuals have certain learning characteristics that give them the potential to achieve outstanding performance. • Giftedness and talent can mean different things to different communities and cultures in New Zealand. • Students who exhibit characteristics of giftedness or talent have learning needs that are signifi cantly different from those ofother children. • They require different learning opportunities and may need emotional and social support to realise their potential.

Adapted from Ministry of Education, 2002, page 2
4 Characteristics of Gifted Children
Adapted with permission from Dr Linda Silverman, founder and director of the Gifted Development Center 1. Reasons well (good thinker) 2. Learns rapidly 3. Has an extensive vocabulary 4. Has an excellent memory 5. Has a long attention span (if interested) 6. Is sensitive (feels hurt easily) 7. Shows compassion 8. Is a perfectionist 9. Is intense 10. Is morally sensitive 11. Is strongly curious 12. Perseveres (when interested) 13. Has a high degree of energy 14. Prefers older companions 15. Has a wide range of interests 16. Has a great sense of humour 17. Is an early or avid reader (if tooyoung to read, loves being read to) 18. Is concerned with justice/fairness 19. Has keen powers of observation 20. At times, demonstrates a judgment that is mature for age 22. Is highly creative 23. Tends to question authority 24. Has facility with numbers 25. Is skilled with jigsaw puzzles
5. So... how can you help your child to develop gifts and talents ?
We will explore this topic in our next newsletter.

============================================

Tips & Tricks on Midbrain Activation

================================================================= You can find more about

https://www.youtube.com/watch?v=vqbXPfaN_VM&feature=player_embedded

=================================================================

Q & A: review & FAQs answered:  We have seen plenty of evidence of the power of The Midbrain Activation. This is a gift for our future generations and we need your help to promote it worldwide. We have very affordable plans that take into your unique situation. Contact us with details of :  Your Teaching / training experience  How you plan to conduct the workshop in your country

Send your details to: ruwan@paradise.net.nz

=================================================================

Subscriber Feedback

=================================================================

We welcome your feedback, questions, and suggestions A PREVIEW OF THE "Guide to Quantum Speed Reading - " Contents: # An Outline of the Whole Book - to give you a general picture of the layout # An outline of The Basic Method # Details of The Basic Method # An outline of The Basic Techniques # Details of the Basic Techniques # The Three Most Important Chapters in the book. # Suggested Teaching plan based on our successful workshops # A List of the 20 exercises found in the book # Additional Exercises based on our own research and workshops

https://www.midbrain-activation.com/Midbrain-Activation-After-QSR.html

=========================================================== General & Unsubscribe Info ===========================================================

MIDBRAIN ACTIVATION © Copyright 2012, RUWAN ASSOCIATES, except where indicated otherwise. All rights reserved worldwide. Reprint only with permission from copyright holder(s). All trademarks are property of their respective owners. All contents provided as is. No express or implied income claims made herein. Your business success is dependent on many factors, including your own abilities. Advertisers are solely responsible for ad content.

Please feel free to use excerpts from this newsletter as long as you give credit with a link to our page: www.midbrain-activation.com

===========================================================

MIDBRAIN ACTIVATION is an opt-in ezine available by subscription only. We neither use nor endorse the use of spam.

Thank you!